The Best Brands of CoQ10 You Can Find
The Best CoQ10 Supplement Brands We Have Found
Once my doctor told me to start taking Coenzyme Q10, I started a long search for which brand I should use. I needed to weed out the hype from all of the "Rip Off" products out there. After a few days of researching I started to see a pattern of what is important when choosing the best brands of CoQ10.
So far, I found 3 products that meet the quality standards for the best CoQ10 supplement. Listed below are the two main features to look for when choosing one that will actually get to work in your body and not just end up getting flushed down the toilet.
1.) CoQ10 and Fish Oil
What is the Coenzyme Q10 combined with?
CoQ10 works best when combined with a fatty acid such as fish oil.
The oil helps protect CoQ10 as it travels through the body and also helps your body absorb it.
You also get the added benefits of the Omega 3's in fish oil.
2.) Ubiquinol

Coq10

Is The Best Form of Coenzyme Q10
The type of CoQ10 that is most usable by your body is Ubiquinol.
Most supplements use Ubiquinone, which is less likely to be used by your body.
Your body has to convert Ubiquinone into Ubiquinol before it can do its magic.
The conversion process becomes difficult for the body as we get older. Therefore, if your supplement doesn't contain Ubiquinol then it may not be used by your body and in that case, you're throwing your money away.
Best Brands Coq10 Review
#1  Omega 3/QH Ultra from XtendLife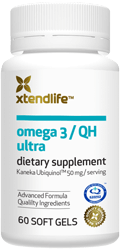 This is our number one choice. Omega 3/QH Ultra by XtendLife because it's one of the most beneficial blends of the highest quality fish oil and ubiquinol you can possibly find. Plus they have added two other antioxidants called Astaxanthin and Lycopene.
It's made in one of the most pristine locations in the world – New Zealand – which has the incredible advantage of being far away from the world's industrial pollution.
Key ingredients of this premium fish oil supplement come from Tuna and the Hoki fish. Their source is from unpolluted waters so they are free from heavy metals and other contaminants. It also comes with a 100% Guarantee. You can find out more at  Xtend-Life.
#2 Omega Q Plus from Dr. Sinatra

Dr. Sinatra's Omega Q Plus Heart Health Supplement, 60 softgels (30-day supply)
targets heart health by combining CoQ10 with vitamins and Omega 3 oil. It's interesting to note that the oil doesn't come from fish, it comes from squid. It's called Calamarine and is richer in Omega 3's than fish. It also does not have that fishy odor you get with some supplements.
The Calamarine oil is eco-friendly since the squid are caught at the end of their life cycle. Omega Q Plus uses a highly absorbable version of CoQ10 called Hydro-Q-Sorb, ensuring your body gets a full dose. They also add L-Carnitine, Folic Acid and Vitamins B6 and B12 for extra protection for your body.

Super Ubiquinol CoQ10 with Enhanced Mitochondrial Support?, 100 mg, 60 softgels

Formulated with ubiquinol, a highly bioavailable form of CoQ10 and clinically shown to further increase CoQ10 absorption, promote cardiovascular health, and help restore youthful cellular energy. PrimaVie® shilajit enhances mitochondrial CoQ10 absorption. Shilajit prolongs CoQ10's efficacy at the cellular level by stabilizing the ubiquinol.